A Morning with Arlie Russell Hochschild
thesecondopinion's 4th ANNUAL BREAKFAST BENEFIT!
HONORING  Dr. James A. Clever, Founding Medical Director
And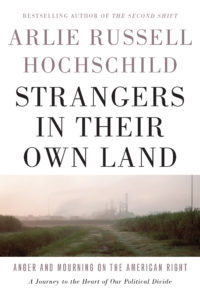 A Morning with Arlie Russell Hochschild
Friday, March 9, 2018
8:00 am to 10:15 am
Jewish Community Center – San Francisco
Books, Inc. will be onsite if you would like to purchase a book to be signed by the author.
Arlie R. Hochschild is a professor of sociology at the University of California, Berkeley and the author of nine books, all of which focus on the human emotions which underlie moral beliefs, practices, and social life generally. She is the author of, most recently, the New York Times bestseller Strangers in Their Own Land: Anger and Mourning on the American Right, which was a finalist for the National Book Award and the J. Anthony Lukas Prize, and was named one of the "Six Books to Understand Donald Trump" by The New York Times on the morning after the 2016 presidential election. The New York Times also included it on their one hundred best books of the year for 2016 and the book appeared on dozens of 2016 "Best Books of the Year" lists, including the Financial Times, The Washington Post, and the San Francisco Chronicle. Working in the tradition of C. Wright Mills, Hochschild continually tries to draw links between private troubles and social issues.
Tickets are $100 per seat or you can buy a table (ten seats) for $1,000.  Purchase tickets/table online or send a check to: thesecondopinion, 1200 Gough Street, Suite #500, San Francisco, CA  94109
To sponsor the event call or email Cheri at 415-775-9956 or cheri@thesecondopinion.org
Posted by tso on Thursday, December 14th, 2017 @ 10:18AM
Categories: Uncategorized