Donate
CONNECT WITH US
thesecondopinion
1200 Gough Street
Suite 500
San Francisco, CA 94109
Phone: 415-775-9956
Email: mail@thesecondopinion.org




50 Years of Generosity
We are committed to helping every cancer patient understand their disease and available treatment(s) in their language and at their level of understanding – and remaining a resource for information after they receive a second opinion.
We wouldn't have been able to serve over 10,000 patients since 1969 and helped hundreds of physicians make decisions to provide the best cancer care treatment without the support of our donors and partners. Our doors have remained open to cancer patients and their family members because of the generosity and compassion of individuals, foundations and corporate donors who believe everyone deserves access to a second opinion.
The need is great: studies show that as many as 60 percent of patients who have sought a second opinion received a change in their diagnosis or treatment. More than half of the patients thesecondopinion serves have a combined income of $50,000 or less; 65 percent are disabled, retired or unemployed; and 35 percent were breast cancer patients.
With your gift, you can provide hope and change a cancer patient's life.
Cheryl's Story
When my oncologist suggested very aggressive chemotherapy, my friend, a breast cancer
survivor, recommended thesecondopinion. From the time I arrived, I felt comfort…everyone was kind, warm, caring, concerned and very smart. They didn't recommend chemotherapy; in fact, one oncologist looked me in the eye and said, "Live your life."

I knew there was a risk–a 50-50 chance of it coming back, but I was willing to take that chance in order to avoid chemotherapy and enjoy my grandkids. I literally was scheduled for chemo the next day.

I canceled it and have been cancer free for three years.

We never know how long we will live. I know my cancer might come back. But I will forever be grateful to thesecondopinion for giving me the courage to do what I intuitively believed was the right thing to do. –Cheryl
thesecondopinion doesn't:
Receive government funds. 
Bill insurance companies.
Charge for services.
Donate online through our secure, BBB accredited site, Network For Good. There you'll have access to your gifts for tax time and your donation tax receipt will come to you via email.
Please support our work by making a tax deductible gift to thesecondopinion today! 
NO FEES DEDUCTED if you use your PayPal account:
More Ways to Give
Should you wish to make a gift of appreciated stock or would like to discuss a major cash gift or a planned gift from your estate, please contact the Managing Director at 415-775-9956 or cheri@thesecondopinion.org.
Shop Online with Amazon Smile!
Before buying at Amazon.com, visit https://smile.amazon.com/, designate thesecondopinion as your charity of choice, and we will receive 0.5% of the price of your eligible purchases!
Community Thrift San Francisco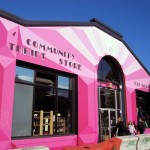 623 Valencia Street, San Francisco, CA  94110  (415) 861-4910

Clean out your closets for thesecondopinion ,Charity #124! We have partnered with Community Thrift San Francisco, a nonprofit accepting donations of gently used goods who then sell the items in their store and disburse the proceeds back to us!
Check their site for hours and what donations they accept www.communitythriftsf.org 
Just be sure to tell them your donation is for Charity #124 thesecondopinion ! !