Privacy Policy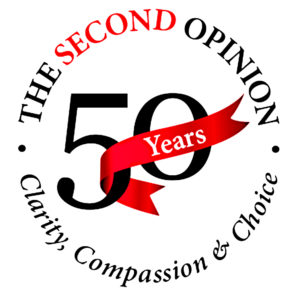 Our Commitment to Privacy
Thesecondopinion respects the privacy of every individual who uses our website.  This notice applies to our information collection practices for this site. Because your privacy is important to us, we provide you with notice and choices about the collection and use of your information. To make this notice easy to find, links are provided at the bottom of our homepage and on every page within our www.thesecondopinion.org website. By accessing this you accept the practices described in this Privacy Notice.

Use of Cookies
We use cookies, small files that are sent to your Web browser and stored on your computer's hard drive, to improve your digital experience. The cookie is used to speed up your access to the site and the information you wish to see, but it does not contain any personal information. The majority of Web browsers accept cookies, but the "help" menu on your browser should give you options for preventing, accepting, or receiving notice of new cookies. However, please be aware that if you block cookies, some website functionality may be lost.
Data Collection
We collect two types of information:
Standard Web server traffic pattern information. General traffic, site usage, browser information and length of stay information is collected and stored inlog files. This type of information is shared externally only on an aggregated basis.
Personal information. We do not collect personally identifiable information from you unless you provide it to us voluntarily and knowingly. If you use our free 2nd Opinion service, volunteer, request information, or donate, for example, we may collect the following information: first and last name, street address, city, state, zip code, telephone number, email address, and subject of inquiry.Personal information may be needed for certain optional online activities:If you register to participate in a thesecondopinion event, such as SVGives.org, we will collect information useful solely for event purposes.Contributions: If you choose to donate to our organization, we maintain a record of your contribution. Your personal financial information will be only used once for purposes of processing the donation. This is through third parties (see Donations below).
Requests: If you submit a request for thesecondopinion's free brochures, or submit a question through a "contact us" query, we may have to gather additional information from you to respond to your request. Such information will vary with the request but often includes name, mailing address, telephone number, and email address.
Data Use
We limit the use of information provided to us on our site to the following:
Internal Use
If you do not make a 2nd Opinion service request, donation, or otherwise identify yourself, we will have no personally identifiable information about you. We will only use aggregate information derived, in part, from your use of our site to improve our site and our service to you.
If you provide personal information, we may enter your name into our constituent database and contact you in order to:

Complete voluntary surveys seeking feedback for quality and service improvement purposes.
Supply you with information including cancer related health news, events and services.
Request voluntary time or monetary contributions to thesecondopinion.

We collect the email addresses of those who communicate with us by email. Inquiries may be entered into our constituent database. If your name is entered into the database, we may contact you (see (2) above).
External Use
Your health-related information is privileged and confidential and will not be shared or released to any organization or business entity other than thesecondopinion.
Your Options
We respect your privacy and allow you to restrict the internal and external sharing of your personal information. We recognize that you may wish to limit the ways in which we contact you and we offer you the following options:
Do not contact me by telephone.
Do not contact me by postal mail.
Do not contact me by email.
Do not contact me with fundraising requests supporting thesecondopinion.
Limit your fundraising appeals to semiannual solicitations only.
All reasonable efforts will be taken to ensure that you will not receive any of the selected communications from us in the future. If you opt back into a specific service, you will receive communication in that manner, regardless of your overall opt out selections. These services may include newsletter subscriptions or email communication by asking a question using "Contact Us."  

Access
Upon request, we will provide you with the information we maintain about you so that you may request corrections. This information will be sent via postal mail, which we believe is the most secure method of communication. Please contact us by email at mail@thesecondopinion.org or in writing at:
Security and Privacy Requests
thesecondopinion
1200 Gough Street
Suite 500
San Francisco, CA  94110
To protect your privacy and security, we will take reasonable steps to verify your identity before providing information or making corrections.
Data Security
We are committed to protecting the security of your personal information and to honoring your choices for its intended use. To prevent unauthorized access, maintain data accuracy, and ensure the correct use of information, we strive to maintain physical, electronic, and administrative safeguards.
Inside thesecondopinion, data is stored in password-controlled HIPAA compliant encrypted servers. Our staff and volunteers are educated about the importance of safeguarding your information and we are committed to holding them accountable for protecting your confidentiality. However, such precautions do not guarantee that our site is invulnerable to all security breaks. thesecondopinion makes no warranty, guarantee, or representation that the use of our site is protected from viruses, security threats, or other vulnerabilities and that your information will always be secure.
Donations
We process your online financial transactions securely using the following third party vendors: Network for Good (https://donatenow.networkforgood.org), Square Up (https://squareup.com), and PayPal (https://www.paypal.com/home). When you make an online donation to thesecondopinion your personal financial information is collected solely for the purpose of the specific transaction you have indicated. We do not keep any of your financial information at thesecondopinion but we do maintain your personal contact information in our secure database. For more information and the privacy policies of each 3rd party processor, please visit http://www1.networkforgood.org/privacy, https://squareup.com/security, https://www.paypal.com/us/webapps/mpp/paypal-safety-and-security.
Links
Our privacy policies apply only to your use of thesecondopinion site. The www.thesecondopinion.org  website contains links to other sites, including sites that have a special relationship with us. We do not disclose personably identifiable information to those operating linked sites and we are not responsible for their privacy practices. Links to other sites do not imply an endorsement of the materials or policies on those websites. You should read the privacy policies of each site you visit to determine what information that site may be collecting about you.
Contact Us
This privacy statement will be updated periodically and posted on our site. It applies only to our on-line practices and does not encompass other areas of the organization. If you have any questions about our policy or our compliance, you may send us an email at mail@thesecondopinion.org or write to:
Security and Privacy Requests
thesecondopinion
1200 Gough Street
Suite 500
San Francisco, CA  94109
Policy Updates
We reserve the right to update this policy at any time.  Any changes will be effective immediately upon the posting of the revised policy.