Archive for Uncategorized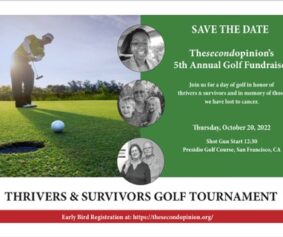 Wednesday, March 16th, 2022 @ 3:52PM
Save the Date, October 20, 2022
Join us for a day of golf in honor of thrivers & survivors and in memory of those we have lost to cancer.
Saturday, February 8th, 2020 @ 9:07PM
As you are all aware, the Coronavirus has severely impacted the Bay Area, with the CDC, state and local officials strongly encouraging social distancing. In an effort to keep everyone healthy and safe, we have made the difficult decision to postpone our annual Breakfast Benefit, featuring Dr. Sapolsky, which was…
Wednesday, September 7th, 2016 @ 11:56AM
thesecondopinion is proud to share our new video "A Panel Day at thesecondopinion". Directed by Jon-Luke Kvapil Made possible thanks to a generous gift from an anonymous donor! Enjoy!